BIM Certification Course
Autumn BIM Certificate Course
starts September 28, 2023
Email cmadvising@uw.edu to Register
Project complexity is on the rise and BIM offers us more insight, in ways never thought possible before.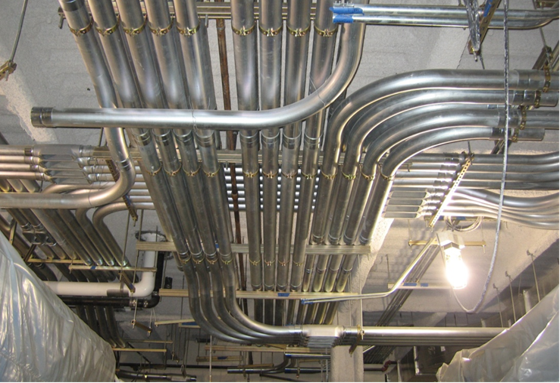 Key project information is available in a virtual form that can
help us to mitigate risk and increase predictability.  Owners, designers, contractors, and subs all need to interact 
earlier,
more often, and more effectively.  Effective communication and collaboration are essential to success, BIM facilitates both.  These are just a few of the many reasons that we've seen
rapid adoption of Building Information Modeling or "BIM" in the design and construction industry, and thus the strong demand for construction management professionals who can leverage the many benefits of BIM on their projects.
This certificate program complements a professional degree or real-world experience by helping construction managers take an active role in the BIM process.  The key differentiator of this program from other BIM education programs available today is the focus on applied BIM skills that can be readily useful in real project settings: what you learn in this program today, you can apply on the job site tomorrow.
How do I Register?
Students not currently enrolled at the University of Washington will register through UW Continuum College's non-degree enrollment program. Email cmadvising@uw.edu to receive the registration form and enrollment instructions. Please mention prior to registration if you intend to apply this credit to a future graduate degree at UW.
Can I get Financial Aid?
*We are not able to offer financial aid.
The BIM Certificate course is a self-sustaining program delivered through the Center for Education and Research in Construction. Although students receive academic credit, non-degree students are not eligible for institutional aid.
Who Should Take This Course?
This course is ideal for construction managers with limited to no knowledge of the BIM process or software packages. Those in related professions who would like to learn more about how construction managers make use of BIM, such as architects, civil engineers, MEP engineers, trade subcontractors, and those in related fields, would also benefit from this program. It is also a great supplement for students currently pursuing one of these degrees looking to learn practical skills that could help move into a BIM-related role.
Students who successfully complete the coursework and capstone project will receive professional certificate from the UW Department of Construction Management and have access to a UW transcript verifying the final grade.
Technology Requirement
Each student is required to have access to both Autodesk Revit and Autodesk Navisworks Manage. Students using their personal computers are eligible for a one year license through the Autodesk Student program. Students taking the class must provide the hardware, software, and internet connection necessary to run these tools.
Course Agenda & Logistics

The hands-on course spans 10 sessions and includes a Capstone project and presentation.
The course is taught online – students can attend from any location. 
Classes are all held live on Tuesdays and Thursdays from 4:30 pm – 5:50 pm (PST) and recorded for later review. 
Introduction to BIM
BIM Technology Fundamentals, Navisworks
Virtual Planning with BIM
4D Planning – Winning Work & Capstone
Coordination and Clash Prevention
BIM in the Field – Construction Cloud
BIM Technology Fundamentals, Revit
Quantities and Component Tracking
Innovation in BIM
Asset Management and Course Conclusion
Frequently Asked Questions
How much does the course cost?
∴  The course tuition is $1,214. Unfortunately, there is no financial aid available for this course. Students receive a UW NetID and have full access to the University of Washington library system. A Husky Card is required to check out physical library materials. 
Can I attend online? What if I'm outside of Seattle?
∴  Absolutely!  The course is meant to be completed 100% online.  Students attend from across the country and internationally with great success.  Instruction is delivered live each week of the course via the web-based Canvas platform.  Because we keep the course content and case studies fresh, pre-recorded class sessions are not available.  Each class recording is posted and available the next day for review or to watch for the first time.  The instructor is available for questions via email. Local students are also welcome to join session in person on the UW Seattle campus.
How often is the course offered?
∴  We aim to offer the course each in autumn quarter (September – December) each year. 
Does this course qualify for University of Washington credit?
∴  Yes!  Students not currently enrolled at the University of Washington will register through UW Continuum College and earn 3 quarter credits for the class. Participants can request a copy of their UW transcript at the end of the course. Anyone hoping to apply the credit to a future graduate degree at UW should contact cmadvising@uw.edu in advance of registration.
Can I get help with an international student visa?
∴  No.  Because this course is not delivered as part of a matriculated university program, we are not able to offer support for the visa application.  This workshop/training does not qualify for a visa.
Can the registration fee be paid in installments?
∴  Not typically. However, if your situation is unique or you have a third-party covering your tuition, please contact cmadvising@uw.edu for more information.  
CERC and Skanska teamed to develop a uniquely focused, applied Building Information Modeling (BIM) skills certificate course.  Students leave this program with tangible BIM software skills and an understanding of work processes, as well as enough industry context to decide why and how to leverage these capabilities.  The online delivery approach allows the program to be as accessible as possible for working professionals to attend.  This three-hour weekly course is held Tuesday and Thursday evenings, usually in the Fall.  It is offered through the Center for Education and Research in Construction and will be hosted virtually through live online sessions that will be recorded for those attending at a later time. 
About Skanska USA
Skanska is one of the world's leading construction and development companies. With U.S. headquarters in New York City, Skanska has offices in 28 metro areas with 9,000 employees nationwide. In 2022, they generated $6.9 billion in revenue. Through leading-edge technology and data-driven solutions, Skanska is recognized as an industry-leading, award-winning innovator.
Across their projects, Skanska uses Building Information Modeling (BIM) and associated tools to optimize efforts through every phase of the construction lifecycle. Skanska's virtual builders go beyond model basics and execute advanced strategies in estimating, coordination, logistics planning, production tracking, reality capture, and facility management.
Learn more about their approach to innovation and BIM here.
About UW's Center for Education and Research in Education (CERC)
CERC is a locus of research, scholarship, and discovery in the UW's Department of Construction Management and allied disciplines of architecture, engineering, and real estate.  Focusing on people and practices for the dynamic and innovative construction industry, CERC develops new concepts and contemporary solutions while improving methodologies for design, construction, and operations.  CERC's labs are focused on Safety and Health, Project Delivery and Management, Virtual Design and Construction, Infrastructure Development, and Sustainable Built Environments.  The Faculty of CERC are not only experts in their field, they are researchers in a wide array of topics but also lead the discipline in translating that expertise into excellent construction education practices and pedagogy to train tomorrow's construction professionals.
The UW-Skanska Certificate in Building Information Modeling was developed by award-winning researcher Dr. Carrie Sturts Dossick, Professor of Construction Management and Associate Dean of Research in the UW College of Built Environments. The course is primarily taught by BE Ph.D. student Dan Dimitrov and practitioner Graham Condit of Skanska USA Building. Over the course of the program, they will also host a number of guest lecturers who are seasoned BIM professionals active in the field today. These experts bring current, real-life experience to the classroom environment to share best practices and lessons learned while answering difficult questions relative to how BIM tools impact collaboration, communication, and quality in our rapidly changing industry.